There is no better place for creating delicious meals than in the kitchen, where memorable moments are shared. One of the most versatile appliances in the kitchen, the oven helps us bake, roast, and cook various foods. Although ranges are safe, they do come with potential hazards, just like any other appliance. Taking steps to prevent accidents and injuries in the kitchen is crucial for keeping it a safe and enjoyable place. Here are practical tips to help you ensure a safe cooking environment and explore common oven safety concerns.
Understanding Common Oven Hazards
Burns and Scalds
It is common for ovens to cause burns and scalds, among other kitchen injuries. It is dangerous to reach into a range to retrieve dishes or to brush against hot surfaces when hot. Skin damage and blistering can occur as a result of these burns, which range from mild to severe.
Fire Hazards
Ovens can become a fire danger if they are not utilised and maintained properly. Overheating, spillage, and poor wiring are all concerns linked with electrical fires. Fires in the kitchen, which are frequently sparked by grease or food waste, can spread fast and represent a severe threat to the safety of the entire family.
Carbon Monoxide Poisoning
The burning of fossil fuels, particularly in gas ovens, can result in the emission of carbon monoxide (CO) gas into the environment. If breathed in sufficient quantities, this colourless and odourless gas can cause severe health issues or even death if swallowed. CO poisoning can occur as a result of insufficient ventilation or an incorrectly working oven.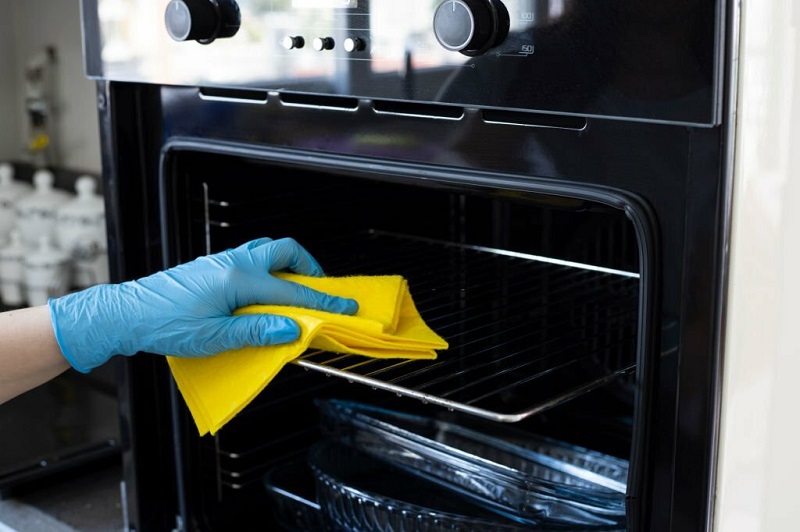 Safety Measures Before Cooking
Appliance Inspection
To avoid any problems, you should do routine maintenance and inspections on your oven. If you see any evidence of wear and tear, such as frayed cables, loose connections, or broken heating components, you must act. If you discover any problems, get the oven serviced as soon as possible.
Proper Ventilation
No doubt, maintaining a safe cooking environment depends on proper kitchen ventilation. Be sure to install an exhaust fan or range hood in your kitchen to ensure that you will have a clean kitchen. If you are cooking with the oven, you might also consider opening windows to allow fresh air to circulate and remove any potential build-up of gases or fumes while cooking.
Safe Cooking Practices
Avoiding Overcrowding
It is essential to remember that overloading the oven can lead to uneven cooking and potential safety hazards. For the heat to circulate your dishes, you must leave enough space around them. The airflow through the oven can be restricted if items are stacked or tightly packed in the oven.
Using Oven Mitts and Pot Holders
Use oven mitts or pot holders to protect your hands and arms when handling hot dishes or cookware. To protect your skin from the scorching surfaces within the oven, choose high-quality heat-resistant textiles.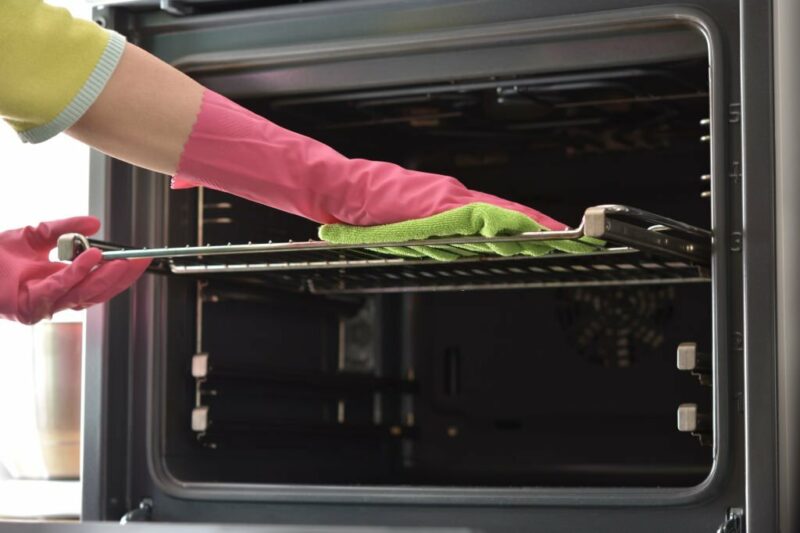 Monitoring Cooking Progress
You should check on their progress on a regular basis to ensure that your foods are properly cooked. You might wish to set timers or alarms to remind yourself. This approach, in addition to preventing overcooking, burning, or the need to open the oven door often, which can contribute to heat loss, also prevents overcooking or burning.
Proper Placement of Oven Racks
Your oven racks should be placed at the correct levels to ensure you get the best results. It is essential to identify the racks correctly to ensure even cooking and to reduce the chances of spills or accidents when inserting or removing dishes from the oven.
Childproofing and Safety for Families
Childproofing the Oven
A childproof oven is one of the most important things you can do for a family with young children. Make sure that you install oven locks on the door so that curious little hands cannot open it. To prevent children from turning on the oven, safety knobs can also be used to help prevent them from doing so.
Teaching Children Oven Safety
As well as childproofing, you should also ensure children are educated on how to use an oven safely. It is essential to teach your children that hot surfaces can be dangerous and that they should stay away from a range when it is in use to avoid accidental burns. Introducing your children to safe cooking practices can be gradual as they grow up.
Fire Safety and Emergency Response
Fire Extinguishers and Fire Blankets
Fire extinguishers and fire blankets should be readily available in every kitchen, as well as an extinguisher. Using these items can quickly suppress a small kitchen fire before it can escalate into a more significant fire. You must become familiar with the proper use and placement of these devices.
Handling Oven Fires
You should remain calm in the event of an oven fire and act quickly to put it out. Close the oven door to deprive the fire of oxygen so it cannot spread. Don't attempt to remove anything burning from the oven until the oven has been turned off. The fire can be smothered with a fire extinguisher or blanket if it continues to burn.
Proper Oven Shutdown and Maintenance
Turning Off the Oven
You should always turn off the oven whenever you finish cooking as soon as possible. Make sure that it has been completely turned off by double-checking the power switch. It is possible to create unnecessary risks by unintentionally leaving the oven on when you don't intend to.
Cleaning and Maintenance
Keep your oven clean and maintained regularly to avoid any hazards from arising. If there are any food debris, grease, or spills, they should be cleaned up immediately. Cleaning and maintenance are to be carried out by the manufacturer's recommendations. Clean ovens operate more efficiently and reduce the risk of fires because they are used at a higher temperature.
Conclusion
Oven safety is critical for a happy and safe cooking experience. You may lower your risk of accidents and injury in the kitchen by being aware of typical oven dangers and implementing safety precautions in your kitchen. Maintaining a safe cooking environment is critical, which includes inspecting equipment on a regular basis, providing enough ventilation, following safe cooking procedures, and properly childproofing.
In an emergency, having fire extinguishers and fire blankets on hand and knowing how to use them is critical. Cooking safety, as well as oven safety, should be taught to children at a young age.
It is possible to enjoy cooking in your kitchen while minimising the potential risks associated with this essential appliance by prioritising oven safety. For example, regularly clean your oven or trust an oven cleaning company. Ensure your safety, stay vigilant, and enjoy cooking.